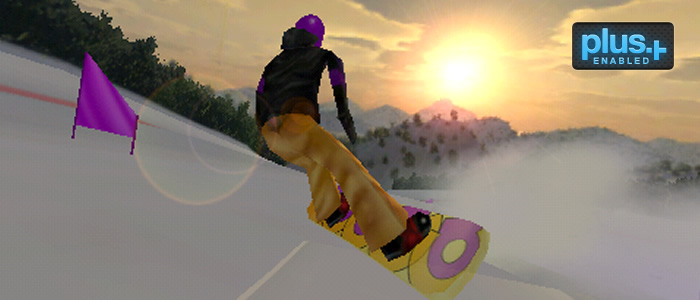 UPDATE April 20, 2010: Version 2.6.2 is out with all new Knight dude and new mission 5 castle, check out the screenshots!
Get ready for some wicked-cool 3D snowboarding action on your iPhone!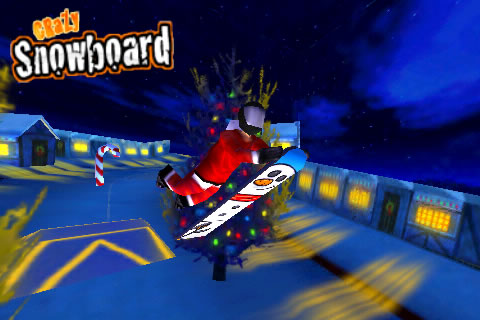 – Eye-popping 3D graphics
– In-air trick system: spin, flip and grab!
– 30 missions (more than 30 Plus+ leaderboards)
– More than 60 Plus+ awards to earn
– 13 riders to unlock
– 13 boards to unlock
– 16 touch-activated in-air tricks to unlock
– Grinding: rails, boxes, logs, candycanes!
– Smashable obstacles: zombies, snowmen, elves!
– Intuitive controls – really feels like you are boarding!
– Quick pick-up-and-play
– 4 Endless free-ride modes
– Hours of challenging game-play
Waiting for a bus? Stuck in line? No matter where you are, now you can hit the slopes! Just fire up Crazy Snowboard and you're there!
Ready for some massive airs? Just touch the screen (anywhere) hold down and you'll crouch ready to spring. Release your touch on top of a ramp and you'll get a huge boost. Link tricks together to increase your multiplier and score big.
How about grinding? We've got rails, boxes, logs, candycanes (yes, candycanes!) all ready for your grinding pleasure. See how many grinds you can link together to ramp up your bonus multiplier and boost your score.
Well, what are you waiting for? Download it now!
Still not sure? Well, if you want a snowboarding game with only 3 tracks, 3 riders and limited tricks, then you might as well buy one of the other snowboarding apps in the store (or download our FREE Crazy Snowboard Lite). But, if you are after hours of fun playing the biggest and best snowboarding experience on your iPhone, you need to download Crazy Snowboard now!
What's new in v2.6.1:
– In-air turning is back!!
– Original, Holiday and Graveyard free modes
– On-screen feedback for in-air turn, rotate and grab controls
What's new in v2.6:
– All new in-air controls: 360s, 720s, front and back flips!
– Optimized touch controls for iPad (lower left and right on-screen for thumbs)
– Better on ground controls: more realistic carving turns
– Lumberjack outfit and crazy chainsaw board
– More grinds in missions
– Grinding is easier (and you get multipliers faster)
– Updated grabs (for new in-air spin/flip controls)
– Improved physics
– Improved board spray
– Improved start camera animation
– Better/faster chase camera
– Updated instruction screens
– User interface tweaks
Fixes:
– Plus+ login no longer resets selected grabs
– Gold medal requirements for mission 5 and 22 reduced
– Option to turn off music and play iPod music
– Mission tweaks

What's new in v2.5:
Plus+ support!
More than 30 Plus+ leaderboards
More than 60 Plus+ awards
The Plus+ network combines the best features of an online gaming environment with the sharing and virality of traditional social networks.
Info Links: Game Description, Screenshots, Gameplay Video, Trailer Video
App Store Links: Crazy Snowboard (US$0.99), Lite Version (Free)