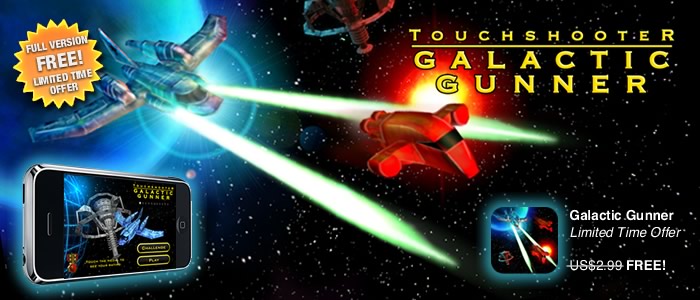 Make Friday the 13th of November your lucky day – download your FREE copy of Galactic Gunner!!
To celebrate @ezonecom reaching 500 followers on twitter we are making the full version of Galactic Gunner free for a limited time! This Friday the 13th of November head to the App Store and download your free copy. But be quick, once we realize how ridiculous this is, the special offer will be over. So, tell all your friends and set your iCal alarms to download your free copy.
DESCRIPTION:
Galactic Gunner has something for all ages and skill levels, with intuitive but challenging game-play. Your skill and accuracy (not just trigger/tap-happy luck) will earn you one of 15 different medals — do you have what it takes to earn the 'SuperNova Supreme'?
Grab your copy here: iTunes Link
REVIEWS:
TOUCHARCADE: "The whole package creates an experience unlike anything on the App Store, and the game feels like playing an episode of a wonderfully cheesy low-budget 80's Sci-Fi show, especially whenever the Trepidoids speak."
148APPS: "Galactic Gunner truly shines in the graphics and sounds department. Spectacularly cinematic levels are truly immersive, and one short cut scene at the end of the last level was so intense that I found myself on the edge of my seat."
SLIDETOPLAY: "Galactic Gunner is a solid buy. It's a tightly focused and memorable shooter with a lot of clever humor."
APPYOURMAC: "If you love space battles, get it. If you liked Starfox or classic arcade shooters, get it. If you just want pick up and play explosions, get it. Galactic Gunner, by Ezone, packs a pretty significant amount of fun into a tiny package."
CNET: "With cinematic space scenes, a solid and often funny storyline, and challenging gameplay, this game lives up to the hype and is definitely one to grab."