There's more than one way to skin a cat (or pluck a turkey!)
Does the date 'November 16, 2010' mean anything to you? To me it was a watershed moment for the App Store. On that day, 8 of the top 10 grossing games in the App Store were free (and the two paid ones were those freaks of the App Store "Angry Birds" and "Cut the Rope", so they don't really count). Looks like the smart people over at ngmoco and Zynga know what they are talking about…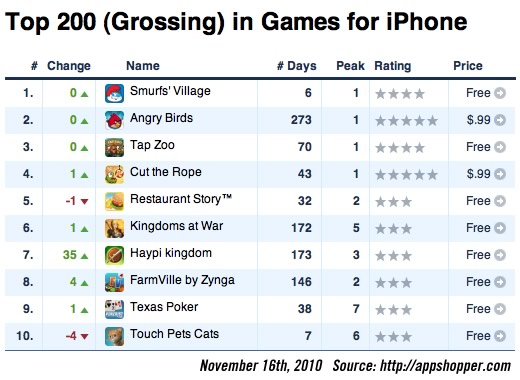 Since Apple introduced in-app purchase for free apps, one of the number one questions for us small indy developers is are we better off releasing free apps or paid ones? We decided to find out…
The Paid Game: "Crazy Turkey Blast"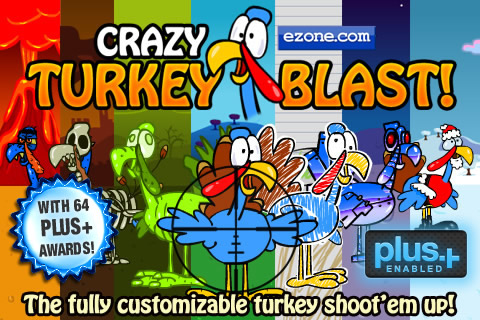 In November 2009 we released a US$0.99 game called "Crazy Turkey Blast" which was a simple tilt controlled cartoon shooting game. It was released just before Thanksgiving and it had OK sales, but never really did great. We admit that it's not the best game we've ever made, but it's also not the worst. It took the hard road: never got an Apple feature, and about the only press was a brief mention on TouchArcade in a Thanksgiving game round-up. As you can imagine,  sales dropped off pretty quickly after the initial release and steadied to around 5 sales a day before we pulled it from the store on October 10, 2010.
Total revenue from 'Paid' app: $2,913
The Free Game: "Turkey Blast: Reloaded"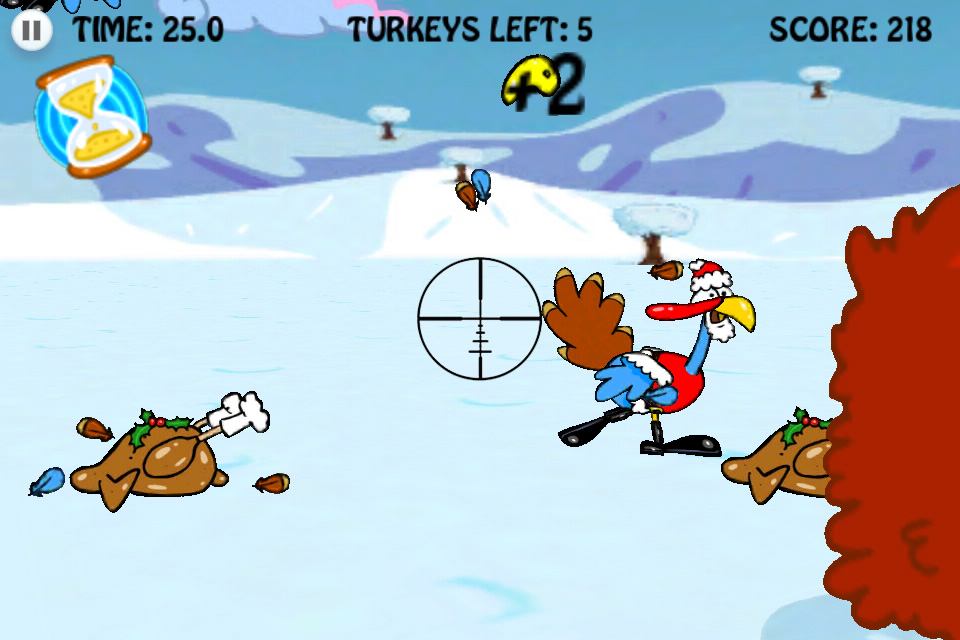 November 8, 2010 we released a free version of the game and renamed it "Turkey Blast: Reloaded". It is pretty much a spiced up version of "Crazy Turkey Blast" with a new level structure, bonus levels, power-ups, Game Center, retina display, Universal and iOS4 support. And to turn it into a freemium game we added iAds and in-app purchase. The two in-app purchases were extra coins (to unlock items), and a 'premium upgrade' which removes the ads and unlocks some special items like the Cowboy and World War II turkeys.
Since release "Turkey Blast: Reloaded" has been downloaded by 115,077 players (downloads are currently around 200/day).
iAds:

$

2,242 (average $70/day)
IAP Coins: $418
IAP Premium Version (removes ads): $317
Total revenue from 'Free' app (so far): $2,977
Conclusion
So far both versions have generated the same total revenue. However, the free game took only one month to generate $3K, while the paid version took a year to reach that figure. It is still early days in the free game's lifecycle, but it is currently earning $80/day, while the paid version was down to approx $4/day before we pulled it from the store.
The great thing for us is that by releasing a free version we have earned an extra $3K (with the potential for ongoing revenue). What is apparent is that there is a market for both models. In the App Store people want choice. Some people don't mind ads if they get a free game, while other players hate ads so much they would do anything to get rid of them.
Next Step
From now on we will be releasing two versions of our games – an ad supported free version and an ad-free paid version. So, look out for "Turkey Blast: Reloaded Pro" a $0.99 ad-free version which should be available in the App Store next week. I'll do a follow up post to let you know how sales go for that one once we have a month's worth of data.
Note: "Turkey Blast: Reloaded" currently has a holiday update out: "Turkey Blast: Christmas", grab your free copy from the App Store now!