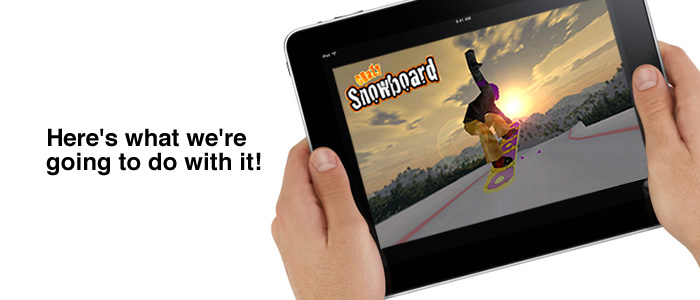 Like all the other iPhone developers out there we are very excited about the new edition to the iDevice family. Here's our plan for Apple's iPad:
Optimise our existing apps for the iPad
We will extensively test our existing apps to make sure they work well on the iPad, and publish free updates to take advantage of iPad features. For example, the in-air trick controls for Crazy Snowboard work great on the iPhone/iPod, but would be uncomfortable when playing on an iPad – so we will be updating them to a touch sensitive area in the lower right of screen.
Universal versions that work on all devices: iPhone/iPod/iPad
The last thing people want is to purchase multiple versions of apps for different devices, so we will make sure that a single, 'Universal' version of each our apps is available. Any updates we do to apps will be free and include iPad support.
New, iPad Specific Apps
We are working on new apps that take advantage of the iPad's unique features, like the increased screen size. These apps will still work on the iPhone, but will really shine on the iPad. e.g. "Crazy Face":
** UPDATE: Crazy Face now available in the App Store – buy it now for iPhone and get the FREE update for iPad when the iPad is released in March! **
App Store Link: Crazy Face ($0.99)
Links to good Apple iPad info: