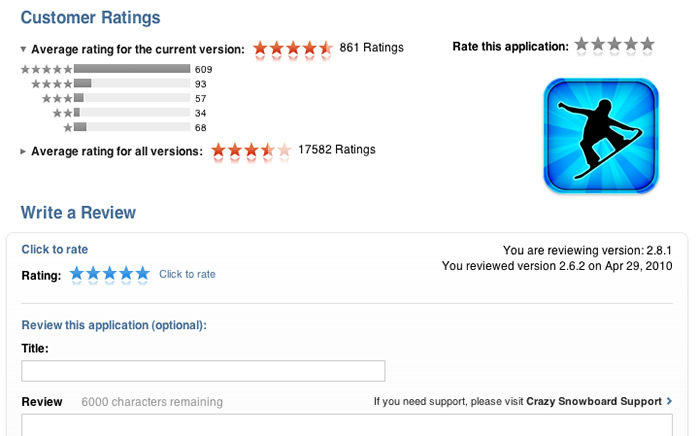 App Store reviews. You want constructive feedback on your game so you can improve it, but how do you read the reviews without letting those really negative ones get under your skin.
Here's something that's helped me. Make a collection of all your one-star reviews (it helps if you have a program like AppViz that will download all your reviews in one spot and then sort them by star rating). Then sit down and read them for what they are. For example, here are some of our favourite nasty reviews:
"This is the stupist game ever it never works always force closes whoever made this needs to fix this problem or find another job definetly uninstalled"

"Won't even launch. Pathetic."

"Lame."

"Simply does not work. I would rather pour acid into my eyes than waste my time downloading this app."

"You know….it's ok, gets boring after a little while."

"Seriously sucks"

"It's a crappy waste of money, I beat it in an hour"

"They Black male you it is not good"

"This game made me shoot flaming poo out ma but at the speed of sound this game was so bad.I thought my nipples where about to explode from the snowboard graphics. God it was bad. My teared up with held back vomit when I finished the first mission, the controls where worse than an old lady behind the wheel."

"How in the hell did this game get such good reviews it's crap you can't buy anything and you can only do tricks two inches from the ground get the stormtrooper in stead"

"This game is so lame. It is not even close to read snowboarding! I'll keep my REAL board and jumps thank u very much"

"Your selling a game that crashes . That fraud. We have to see what kind of criminal charges can be had."

"Probably one of the worst games ever created on the iPod. I tried to bail and still landed the trick. Graphics looks like a pice of . If i could give it a zero i would!"

"I didn't effin' buy this wat is going on I got the lite version and they charged me for this"
So there you have it. If I'd listened to those reviews I would have gone out and found a new job, maybe be in jail for blackmail or selling a game that crashes, while being treated in hospital for acid filled eyeballs and exploded nipples.
By the time you have read through all this rubbish you reach the point where it doesn't bother you anymore. It's kind of like anything you find unpleasant, the more you are exposed to it, the more immune to it you become. After 2 years of making apps I can honestly say that these kinds of reviews don't bother me anymore, in fact I can see the humorous side to them. I also think that 95% of the people reading those reviews know they are bogus and don't let them affect their purchasing decisions.
Now that you are immune to the ridiculous cheap shots, you can read your reviews and pay attention to the constructive comments that can help improve your app.
Also remember not to take these comments personally, although this can be hard, especially on apps you have poured your heart and soul into.
I also have a theory on why there are so many negative reviews in the App Store when compared to the console or PC game space. It's all to do with the pricing.
Before you buy an expensive game you will do research and make sure it is the type of game you enjoy before you plonk down $50 of your hard earned cash. And then, if you don't like it, you aren't going to start posting on the internet what a bad choice you've made – you'll want to justify your decision and say good things about the game.
However, with a $1 game you've got essentially nothing invested, and it's more likely that it was just an impulse buy, and maybe not even a genre that you typically like. Posting a negative review doesn't say that you've made a poor investment (and are perceived as being an idiot), so people are more likely to say something negative.
While we are on the subject of customer ratings if you want to improve your app rating you MUST implement a system to get user feedback from within your app. Here's a great post from Noel Llopis to get you started Increase Your App Ratings On The App Store. Employing these methods has helped  Crazy Snowboard achieve an average 4.5 star rating (even with all those negative reviews shown above!).
And on a final note be thankful we no longer have the rate on delete 'feature' of iOS 3!
Have you had some funny reviews? If so, add them to the comments so we can all have a laugh!
This post is part of iDevBlogADay, a group of blogs by indie iPhone developers featuring two posts per day. You can subscribe to iDevBlogADay through RSS or follow the #iDevBlogADay hash tag or @idevblogaday on Twitter.