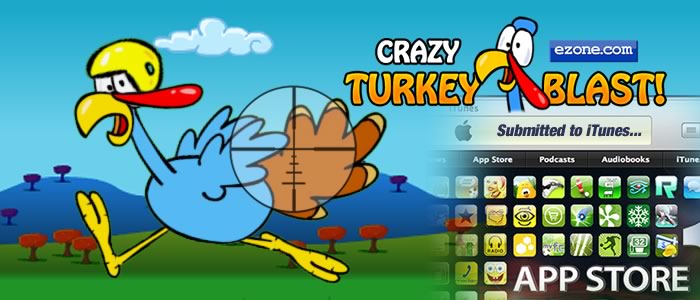 Just a quick update – Crazy Turkey Blast was re-submitted yesterday to iTunes Connect for review. We had submitted it the week before, but because all recent Unity games have been rejected (see this story: Unity Games Rejected by Apple) we decided to resubmit instead of wait for the rejection.
The bad news is that we'll all have to wait a bit longer for Crazy Turkey Blast to be released, and it will be pushing it to hope for an approval before Thanksgiving – but hey, you never know!
The good news is that last week we added 4 more weapons (complete with unique turkey die animations), a couple environments and obstacles, and even new turkeys: Christmas Turkey and Medieval Turkey! Also, we were able to add in something that we were hoping to get in the first release – codes to unlock coins within the game, which in turn are used to buy items like weapons, turkeys, scenes, music, etc. Another cool thing is that you can send anything you've unlocked to your friends! And all this is incorporated in the current version awaiting approval, so you'll get all this on day one.
We are planning to get a version to our game team early next week for them to have a play!
Nov 12: Submitted to iTunes Connect
Nov 18: 'In Review' iTunes Connect status
Nov 23: 'Approved' iTunes Connect