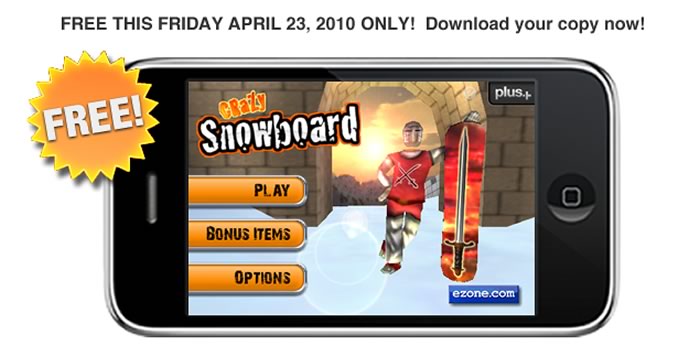 Huzzah! Crazy Snowboard Goes Medieval is Free this Friday April 23, 2010 Only!
Download your copy now!
Yes, that's right the Full version of Crazy Snowboard (the #1 Snowboard game in the US App Store) is FREE this Friday. Click here to download: Open iTunes App Store
This version includes the  2.6.2 update with the all new Knight dude and a brand new Mission 5 – The Castle. Slash and grind your way through the Medieval landscape and rack up a huge score on the Plus+ Leaderboards. And with over 350,000+ players to compete against there is a challenge for everyone!
Crazy Snowboard Trivia:
#1 Snowboarding game in the US App Store
Over 350,000 Full version downloads to date
Almost 2 Million Lite version downloads to date
The first snowboarding game in the App Store
The first Unity3D game in the App Store
One of the first third-party games in the Plus+ game network
14 free updates to the game (so far)
First released on October 30th, 2008
The game was made by two people, brothers Jamie and Simon Edis
iPad version is almost ready and will be free to existing iPhone game owners (Universal app)
(iPad dev screenshots)
What are you waiting for, download it NOW!
Info Links: Game Description, Screenshots, Gameplay Video, Trailer Video
App Store Links: Crazy Snowboard