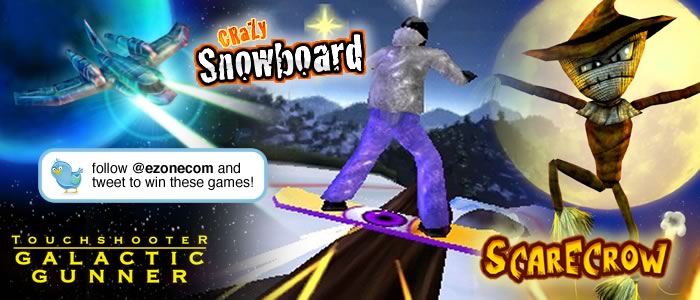 ** OCT 25, 2009 UPDATE: Well, it took a bit longer than we expected (we still have our twitter training wheels on!), but the winner is….. @p0rtalthinker – congrats!
Ready to win some free iPhone games? To celebrate the release of Scarecrow for iPhone and iPod Touch (only US$0.99) we are running a contest to try and get 200 followers on Twitter.  One lucky person will win our top 3 iPhone games: Scarecrow (US$0.99), Galactic Gunner (US$2.99), and Crazy Snowboard (US$2.99).
But wait, there's more! Follow us now for your chance to be an instant daily winner. Everyday we will be giving away promo codes for our iPhone games – all you have to do is follow us and be the first to redeem the published code!
Entry Details:
Rules:
Once we have 200 followers we will randomly select a winner from the entries
Promo codes are valid in the US iTunes Store only
The winner will be notified via direct message to their Twitter account
If the winner does not respond within 7 days a new winner will be drawn
Well, what are you waiting for?!? Get tweeting!