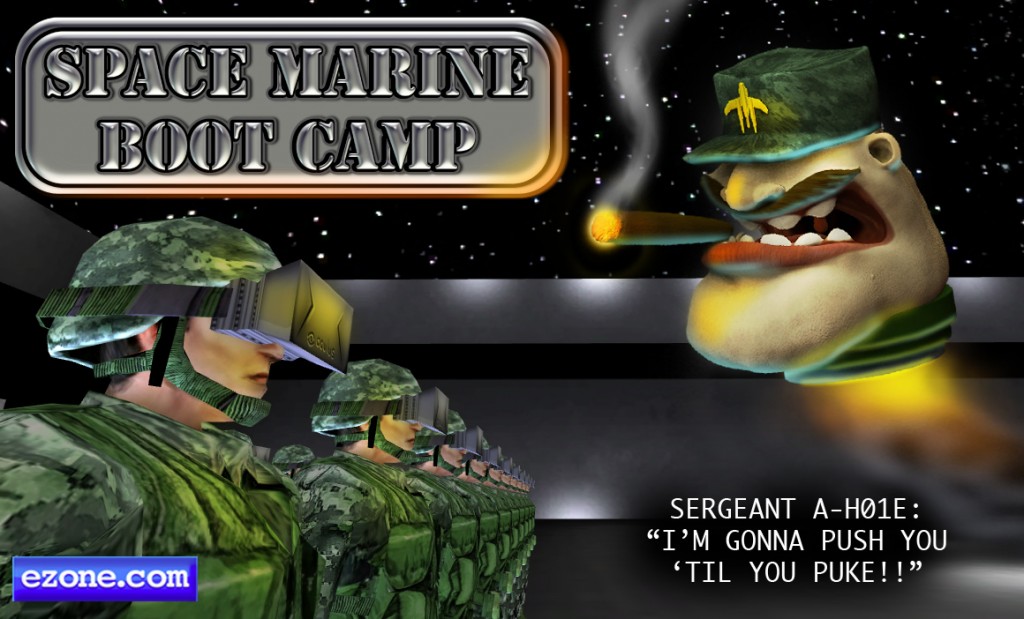 We are happy to announce that our entry in the Oculus VR Jam "Space Marine Boot Camp" has been successfully uploaded and is ready for judging! If you are lucky enough to have your own Oculus Rift, you can now download and play:
MAC: https://s3.amazonaws.com/ovr_vrjam/appfiles/87-c7e1249ffc03eb9ded908c236bd1996d.zip
PC: http://ezone.com/demos/smbc/SMBC_PC.zip
YouTube: http://www.youtube.com/watch?v=_Sf3arDYLWs
Here's a description of the game:
Space Marine Boot Camp (SMBC)
"I'm gonna push you 'til you puke!"
Do you have what it takes to become a Space Marine? You'll find out soon enough in this humorous look at the future of space training!
"Listen up Privates! I am your virtual drill sergeant – 'Sarge A-H01E'. You are now entering Space Marine Boot Camp! This may be the future, and you may be used to all the soft technological luxuries that progress has provided you – all up 'til now that is!  Other than your VR headset, you won't be enjoying any luxuries here. You'll do as I say, when I say! As you are no doubt aware the extraterrestrial enemy is upon us. We must eliminate these slime-covered terrors before they eliminate us. That's where you come in. Currently you are the dregs of mankind, but, when I've finished training you, moulding you – the privates who endure will prove that they are the Best-of-the-Best! The Soldiers of Tomorrow!
"From the dizzying Human-Centrifuge, the chaotic Target Practice, right up until the intense Search & Destroy mission, we will see who has what it takes to pass Boot Camp and prove they are Space Marine material!"
"So eyes forward!  Pay attention! And prepare for the ultimate test of stomach-churning resilience!"
In Space Marine Boot Camp you are challenged to six unique missions which each highlight a feature of the Oculus Rift and 3D VR gaming. SMBC is best played with an Oculus Rift headset and headphones so you can enjoy the atmospheric environments, realistic 3D sounds, jump scares, asteroid fields, flying missions, free-falls, probing aliens and of course the satisfaction of relieving space-sickness!
SMBC uses the head-tracking feature of the Oculus Rift to drive all the menus and gameplay, with a single button press (either spacebar or gamepad button) for interactions. This makes for a very natural and intuitive experience that can be enjoyed by a range of players of different skill levels. To push the more competitive players you get awarded bronze, silver or gold depending on performance for each mission – or a real bad result might have Sarge ejecting you into space…
Can you score gold in all six missions and unlock the Space Marine's secret weapon?
Good luck, and remember:
"In space, no-one can hear you puke."
Screenshots: