It's official. The big publishers now own the App Store. We all knew it was going to happen sooner or later (it's just we all hoped it would be later). Apologies for leading off our second idevblogaday post with another ranking chart, but as any iDev will tell you we all live and die by the charts (who hasn't released a game and then spent all week refreshing MajicRank):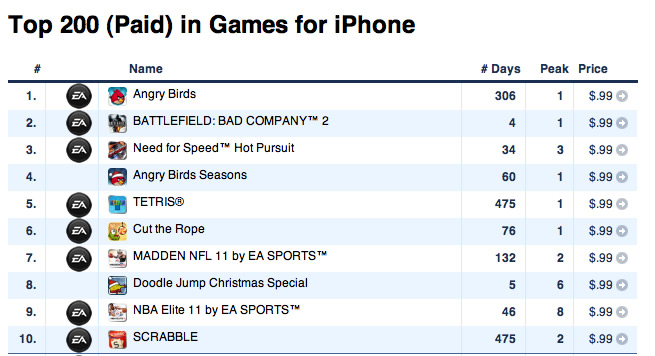 Notice anything? 8 out of the top 10 games are from EA, and if you look at the Top 30 there are 21 EA games. I hear ya -"But wait, Angry Birds and Cut the Rope are from small Indy developers" – nope, not anymore. Chillingo published those two titles, and guess who owns Chillingo. Yup, EA.
A bit different to the App Store this time last year. Guess how many apps EA had in the Top 10 in December 2009? Zero.
But this is pretty typical of any game platform. The small guys get in there early and hopefully make some quick money before the big guys realize that it's profitable and start pushing resources to that space. Happened in the PC game market in the 80s. Then PC downloadable try-before-you-buy games in the 90s. Online / browser flash games in the 00s. And now the iPhone game space has gone the same way too.
The one card that us Indys have up our sleeve is we can take risks. Indys don't have shareholders to report to. We don't need to license big properties. We don't need to stick to proven game designs. We can innovate and take risks, push the boundaries. However, this doesn't mean we can go crazy and spend 6 months polishing a complicated game mechanic with a steep learning curve – iPhone players just don't have the patience to read instructions, they want quick gratification. We need to think smart with our games – especially when it comes to the design.
Doing simple is hard. As Mark Twain said: "I didn't have time to write a short letter, so I wrote a long one instead." It's the same with games. If you can't make it simple enough so that a four year old can pick up the game and start playing, then you need to rethink your design.
What the best iPhone games do well is take a simple, fun, easy mechanic and build on it. Angry Birds doesn't drop you in with 10 different birds on the first level, they carefully pace the introduction of new items. Same with Doodle Jump, Fruit Ninja and Cut the Rope. Those guys have spent a lot of time making it intuitive and simple. Another great example is Plants vs. Zombies, the first levels are dead easy, but by the time you reach the end of the game it is amazingly complex.
OK, so the easy days are gone. No longer can you make a quick $50K from a lighter app. It just means we all have to work smarter and make even better games. We've certainly modified our thinking. We've been working on our labor of love "Hover World" for at least 9 months now (which is like a lifetime in the App Store world). We are putting everything we have into this title and by the time we are done we know it will be the best game we've ever made – but the question is – will it find success in the App Store? We don't know.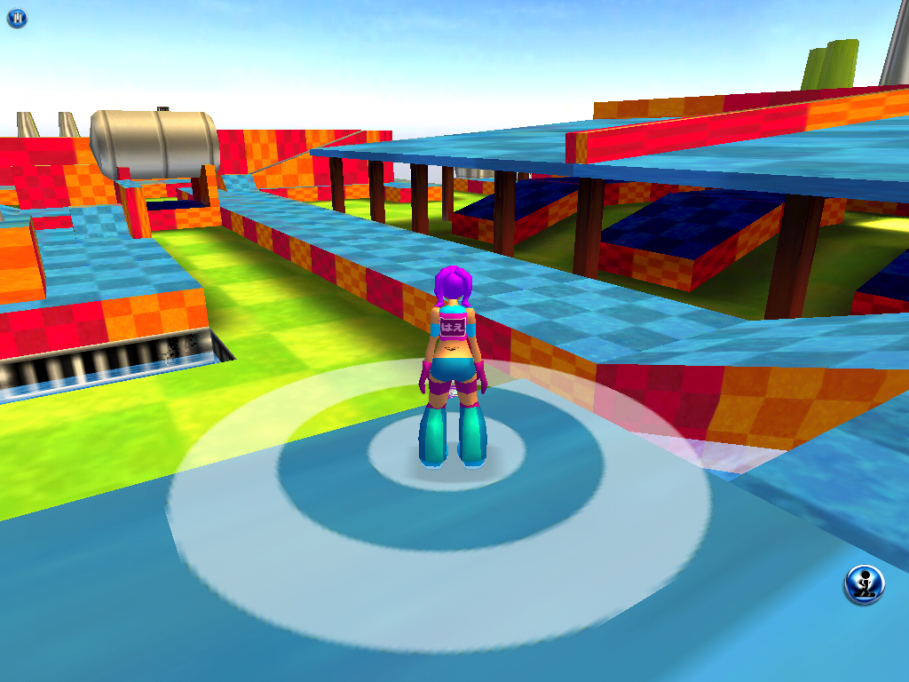 But we aren't going to sit back and leave it to chance. Rather than putting all our eggs in one basket we've decided to spin-off one of the missions from the big project and release it as a standalone game. We hope it ticks all the boxes: simple controls (actually, I don't think you can get any simpler, it's just a single touch input), gradual introduction of items/abilities, nice bright visuals, and tested with a range of ages from 3 to 60. It's a bit of a diversion from the big picture, hence the name. Anyway, 'garbot1' explains it much better than I can:
We haven't given up on the App Store yet!