What a difference a year makes. Last year we posted revenue data on making Crazy Snowboard free for a day via the AppVent Calendar and FreeAppADay sites (you can read the full post here: Free for a day – does it work?)
The Dec 11,2009 AppVentCalendar giveaway (130K+ free copies) did marginally increase royalties, however the Jan 23, 2010 FreeAppADay giveaway (58K+ free copies) actually decreased royalties.
We came to the conclusion that these free app promotions really didn't work well for apps without in-app purchase or ads.
So this year we thought we'd try it again using Crazy Snowboard with two in-app purchases: an Expansion Pack (10 new dudes and boards) and 500,000 coins (that can be spent to unlock in-game items like dude, boards or grabs). Here's a look at the total installs over the free period: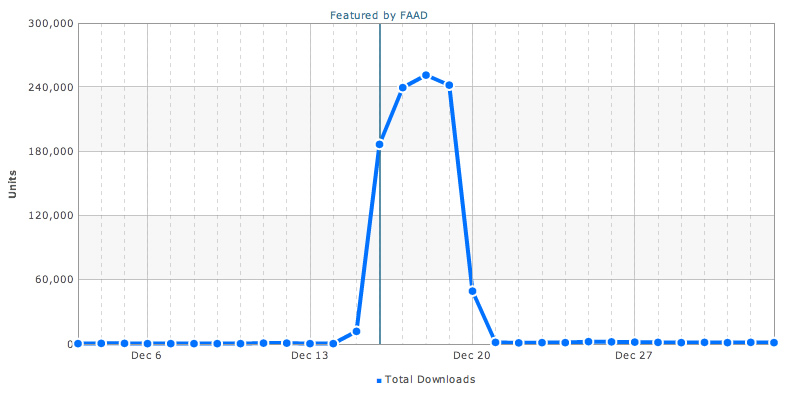 As you can see there were an insane amount of downloads – around 1 million – peaking at 251K on Dec 18th, 2010 where we made it to the #2 slot in the US Free Games chart (#3 overall). Based on the recommendation of the people at FAAD we kept it free for 5 days to maximize the reach. So, can FAAD help promote an app by driving downloads? YES!
Now, for the really interesting bit: here's the revenue spilt over the same period broken down by source: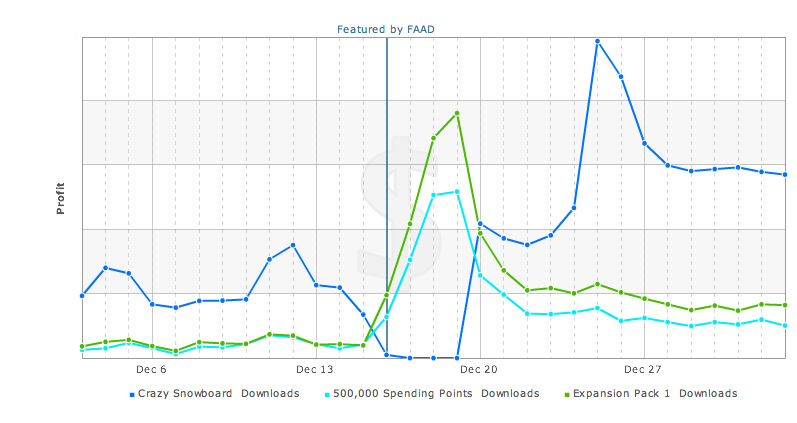 …and the combined total earnings: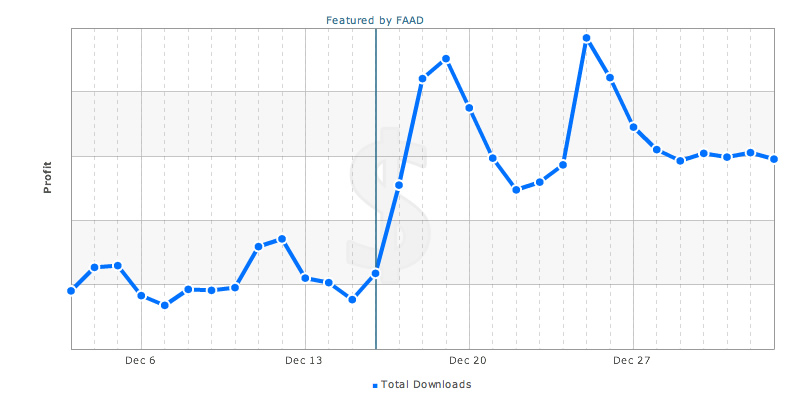 Because we had in-app purchase this time around our profit over the free period actually increased by more than 300% – making the effect on par with the typical xmas holiday upswing.
It was a tough decision whether to change it back to paid or keep it free before the holiday iTunes Connect lockdown, and in hindsight we might have been better off leaving it free over xmas, but it's hard to say. Although we probably could have made more money in the short term we thought there was the risk that we saturate the market and dilute the potential for future earnings through the paid app.
You'll notice that daily revenue is still up 200% from the pre-sale period. This is contributed by both app sales to new customers (through word-of-mouth from people who got it for free) and also in-app purchases to existing owners. Another encouraging side-effect was the increase in visibility of our other apps, which all saw an increase in sales during the Crazy Snowboard giveaway period.
If you are thinking of doing a free giveaway for your app we suggest the following:
Make sure you have in-app purchase in your app so your can generate revenue during the free period
Keep it free for at least 5 days so you can get up the charts, and get it in the hands of customers who will become your sales force when the free period it over
Promote your app via one of the free app sites (we used the FAAD "Daily Double" to get our results)
Don't have ads in your app