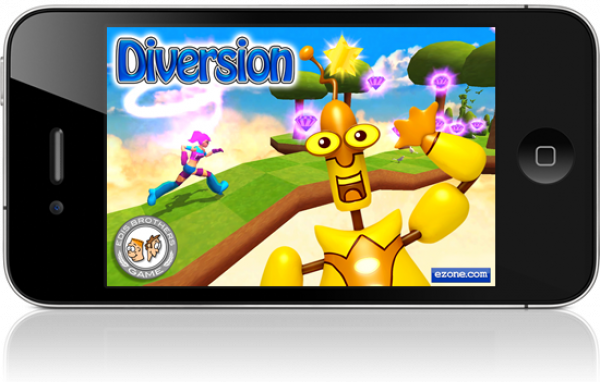 Now that "Diversion" is available in the App Store the reviews are starting to roll in – and they are very encouraging! Here's a sampling to check out.
iFanZine.com (Rating: 5.0/5.0): No interface? No problem! After learning how limited the player's input options are in the Edis Brothers' "Diversion," I went in determined to loathe it. Instead, after a few hours leaping, sliding, shimmying, gliding and climbing through its levels, I came out on the other side a firm believer. Behold the running game to end all running games! – Read More >>
AppSmile.com (Rating: 4.5/5.0): Diversion, Ezone's 3D side-scrolling platformer, was just released and is available from the app store. Drawing some inspiration from Mirror's Edge and giving gamers an early look at the environment of the upcoming Hoverworld, Diversion provides a startling amount of content in a crazy fun little package. – Read More >>
DigitallyDownloaded.net (Rating: 4.0/5.0): Diversion is named perfectly. This simple little one button platformer is bright and charming, and utterly absorbing. Playing this on the train I had nearby commuters watching, when usually they have the good grace to at least pretend to be looking elsewhere. Playing this at home in bed, I realised to my great horror that the time had ticked over to 1am. It's one of those games that pull you completely out of reality and absorb you into a simple, but effective, arcade experience. Read More >>
We'll add more reviews here as they come in.