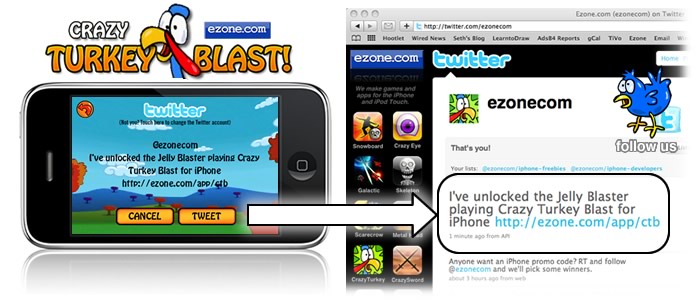 * * Contest Closed. The winner was: @Weeblerjake * *
Win a $15 iTunes Gift Card by playing Crazy Turkey Blast for iPhone and tweeting!
To Enter:
Get Crazy Turkey Blast for your iPhone and iPod Touch (it's only US$0.99!)
Send a Twitter Message from within the game bragging about your score, ranking or a prize you have unlocked
Follow '@ezonecom' on Twitter
Rules:
Entries close on Friday December 4th, 11:59 PM PST
The winner of the $15 iTunes gift card will be drawn randomly from all entries
The more tweets you post, the better your chance of winning
The winner will be notified by Twitter DM (so make sure you follow us!)
iTunes Gift Card valid for US Store only
Tweeting in the game is easy, just touch the TWEET button, enter your details and you're off! And the best thing is that you don't even need to leave the game.
Well, what are you waiting for? Get tweeting!
App Store Link: Crazy Turkey Blast, US$0.99
Here are some sample tweets to inspire you:
RustySabre I'm ranked #1 in the world at Crazy Turkey Blast for iPhone (I've earned 32859 coins)http://ezone.com/app/ctbabout 4 hours ago from API
RustySabre I'm ranked #1 in the world at Crazy Turkey Blast for iPhone (I've earned 32859 coins)http://ezone.com/app/ctbabout 4 hours ago from API
cjsbug I earned 669 coins by roasting a bunch of turkeysaurs on my iPhone http://ezone.com/app/ctbabout 23 hours ago from API
EvilHomer1 I've unlocked the Doodle Trees playing Crazy Turkey Blast for iPhone http://ezone.com/app/ctb1 day ago from API