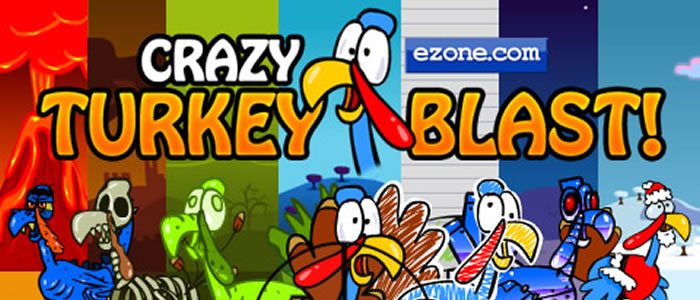 The team that brought you the iPhone hits Crazy Snowboard, Scarecrow and Galactic Gunner brings you a brand new game for the iPhone and iPod Touch: Crazy Turkey Blast – from the Edis Brothers!
Are you looking for a fun game packed with wacky humor that will have you saying 'just one more'?! Well, look no further, because we have the game for you!
NOW WITH 100% MORE TURKEY
The concept is simple and fun. Blast turkeys. What is it about turkeys that makes us laugh so much? Is it the dangly red thing? The silly way they run around? The gobbling? The ridiculous way they fly? We don't know the answer! – but we do know one thing: they make great targets!

JUST-ONE-MORE GAMEPLAY
Playing Crazy Turkey Blast is easy: just tilt your device to move the cross-hair over your victim and touch the screen to blast away! But getting a high score will take some skill and strategy – do you pick them off as they dash from behind bushes, or scan the skies for aerial targets (which are further away and harder to hit)? And you need to watch out, some turkeys are equipped with helmets that you'll need to blast off before you can finish them. Every fatal hit will increase your score and multiplier, so the less you miss, the better you'll score.
UNLOCKABLE PRIZES

At the end of every game session you are awarded coins that can be used to unlock a heap of in-game prizes including: weapons, turkeys, background music, scenes, obstacles, and even clocks that adjust how long each game session lasts. How do you like your turkey? Rare? Shish-kebab? Roasted? How about BBQ? With Crazy Turkey Blast the choice is yours! Each of the 10+ unlockable weapons delivers a unique (and bizarre!) way of dishing out punishment to those turkeys*!
Weapons include: Rifle, Slingshot, Pencil, Laser, Crossbow, Cracker, Magic Dust, Taser, Jelly Blaster, Eraser, Flamethrower, Potion, Snowball, Magic Wand!
FULLY CUSTOMIZABLE

Prizes you unlock can be mixed and matched to make the game just what you want – the possibilities are endless. Like zombie games? No problem, choose the zombie turkey. Like doodle games? Gotcha, doodle mode is built-in. What about dinosaurs? Yup, got them too. And if you like doodles, zombies, and dinosaurs, just choose the zombie turkeys with a doodle background and prehistoric trees. Throw in a banjo backing track and a flame thrower and you've got yourself a crazy arcade game mash-up!
SEND GIFTS TO FRIENDS

Get into the holiday spirit and send a gift to a friend!  With Crazy Turkey Blast and Ezone.com's 'Gift-O-Matic' (patent pending**) gift system you can send any prize you've unlocked right to your friend without ever leaving the game (note: OS3.x and internet connection required for sending in-game email). With the press of a button a gift code is created which your friend can enter in their copy of Crazy Turkey Blast to unlock your gift!
GLOBAL ONLINE RANKING
See how you stack up against the rest of the world! In addition to the local scoreboard (which tracks the best scores on your device) we've included an option to post scores to a server. When you send your score in you'll be able to see where you rank compared to the other players out there.
TWITTER & EMAIL INTEGRATION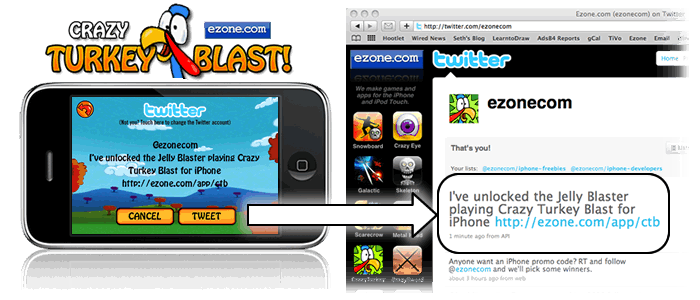 What's the fun of playing or unlocking stuff if you can't brag to the world about how good you are? We all know what a time waster, I mean, how useful twitter is, and with Crazy Turkey Blast you can send tweets without ever leaving the game. After all, everyone should know when you are the #1 player in the world, or if you've unlocked the Jelly Blaster!
So what are you waiting for? There are lonely turkeys out there waiting to make you laugh!! Download your copy of Crazy Turkey Blast today!
* No turkeys were harmed in the making of this game (except for that one that got stuck in the blender….).
** We don't really have a patent pending, we just thought that sounded cool.
For more iPhone fun and games from Ezone.com get: Crazy Snowboard, Galactic Gunner, Scarecrow, Crazy Lighter, and Crazy Chainsaw.
Crazy Turkey Blast is compatible with OS 2.1 and above.
Video Links:
App Store Link: Crazy Turkey Blast, US$0.99