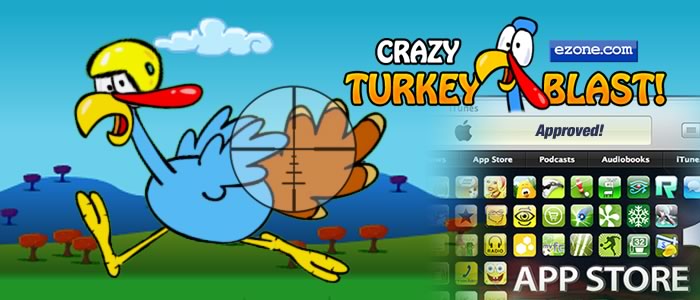 Phew! That was close… we weren't sure if Crazy Turkey Blast was going to make it out in time for Turkey Day, but it has! Yeah! Thanks Apple!!
We just received the 'Your application is Ready for Sale' email, so it should be appearing in the App Store within a few hours. When it does, you will be able to download it via this link:
App Store Link: Crazy Turkey Blast, US$0.99
As soon as it goes live we will also start giving out free codes for in-game items on our twitter feed: @ezonecom. Just follow us for your chance to win things like:
Flame Throwers
Jelly Blasters
Dino Turkeys
Zombie Turkeys
Magic Dust
Doodle Turkeys
Slingshots
Potions
Lasers
and lots more!
Make sure you check out all the Crazy Turkey Blast videos: