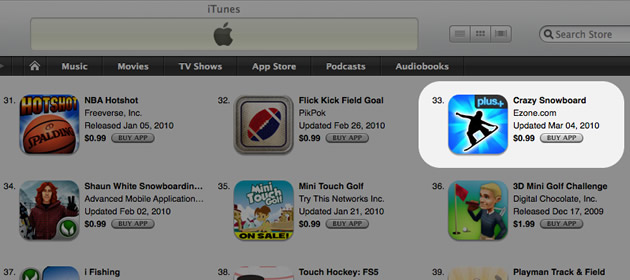 ** UPDATE March 27, 2010: Crazy Snowboard currently at #23 in the US App Store Sports Games category! **
Crazy Snowboard is currently the top ranked snowboarding game in the US App Store!
This new version features in-air controls for spins, flips and grabs, and more than 60 Plus+ awards and 30 global leaderboards so you can go head-to-head against your friends to see who is the Crazy Snowboard champion!
And to celebrate we are having a limited time 66% off sale – so grab your copy now for only US$0.99!!
New in Version 2.6.1:
– In-air turning is back
– Original, Holiday and Graveyard free modes
– On-screen feedback for in-air turn, rotate and grab controls
New in Version 2.6:
– All new in-air controls: 360s, 720s, front and back flips!
– Optimized touch controls for iPad (lower left and right on-screen for thumbs)
– Better on ground controls: more realistic carving turns
– Lumberjack outfit and crazy chainsaw board
– More grinds in missions
– Grinding is easier (and you get multipliers faster)
– Updated grabs (for new in-air spin/flip controls)
– Improved physics
– Improved board spray
– Improved start camera animation
– Better/faster chase camera
– Updated instruction screens
– User interface tweaks
Info Links: Game Description, Screenshots, Gameplay Video, Trailer Video
App Store Links: Crazy Snowboard (US$0.99), Lite Version (Free)