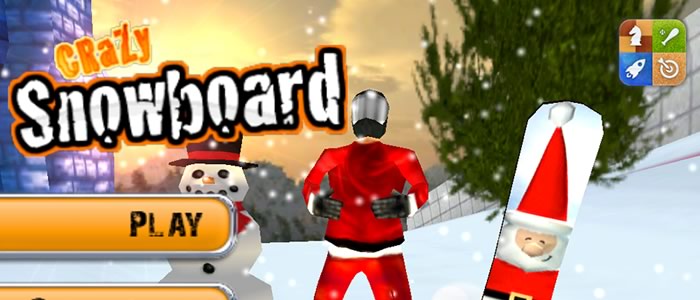 ** DEC 8TH, 2010: It's out! Download it now! **
We've just submitted a massive update to Crazy Snowboard – and the best thing is that this update will be free to all existing owners. Here's what's coming:
– Game Center: 6 leaderboards, 10 achievements
– Retina Display support
– iOS4.2 compatible
– Fast app switching
– Bonus Santa Suit and board unlocked for the holidays
– Earn 5,000 points everyday you play, just for starting up!
– Increased draw distance for 4th generation devices
– Supports multiple orientations
– Less nagging to upgrade (sorry about that!)
– New scoring mode in Free ride tracks
– New time display
– Tracks your best score for each mission
– New mission select menu
– New 'star' based mission ranking system
– Tweaked difficulty to achieve 3-stars
Note: this new version uses Game Center and does not include Plus+. If you would like to continue using Plus+ we suggest that you do not update at this time. Don't worry, all your mission scores, unlocks and progress are saved so you will be awarded Game Center achievements for all your hard work!
Here's a Flickr feed with the latest screenshots: Crazy Snowboard 2.8
Look out for it in the iTunes store next week. In the meantime, if you purchase now you will be eligible for this free update when it is released: click here to download.