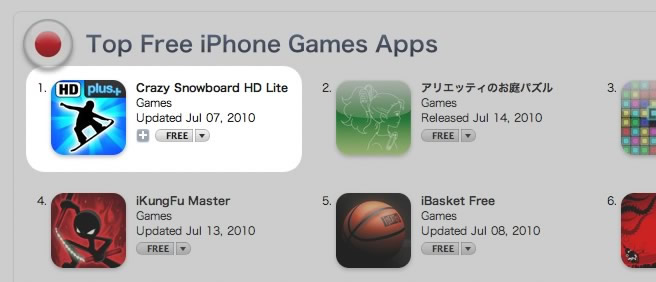 App Dev Tip #1: "Experiment With Categories" – or how Crazy Snowboard HD Lite grabbed the #1 spot in Japan!
On Saturday July 17th Crazy Snowboard HD Lite was the #1 game in Japan with 19,265 downloads. Like a lot of events in this crazy App Store world, the cause of this amazing spike is unknown. As far as we know there was no feature in the Japanese iTunes Store, no magazine or news articles, no TV coverage – heck, it's not even snow season in Japan now. The only thing we can put it down to is on July 15th we changed the app category listing from 'Games>Kids' to 'Games>Racing'. You can see from the graph below that downloads started trending up on the 15th. Combine that with the multiplier effect of being in the Top 10 and then just hang on for the ride.
Who would have thought a simple change like category would have such a big impact on downloads?
The only other factor that we can think of is that we issued a minor update with fast app switching and iAd support on July 8th (downloaded by approximately 35,000 Japanese players), but that doesn't explain why it took off a week later.
Needless to say we are playing around with categories for all our apps – and you should too. Of course we are only playing with categories that make sense – you won't see Crazy Snowboard in 'Books' or 'Weather'!
Info Links: Game Description, Screenshots, Gameplay Video, Trailer Video
App Store Links: Crazy Snowboard (US$0.99), Lite Version (Free)