According to a recent report from Canalys Android is now the World's leading smart phone platform: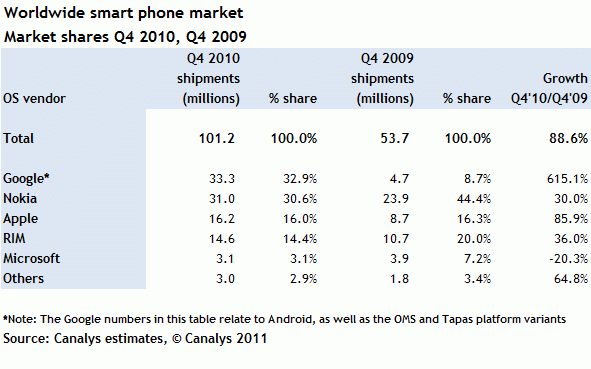 I knew Android was growing fast, but I didn't realize it was growing this fast. For a platform that was launched in late 2008 to already be the market leader is amazing. As an iOS developer at first this seemed scary: is Android taking over? Will the market for iPhone users dry up?
So I decided to dig a bit deeper. How about we add in the sales of Apple's other devices that run iOS: 10 million iPod Touches and 7.3  iPads for Q4 2010: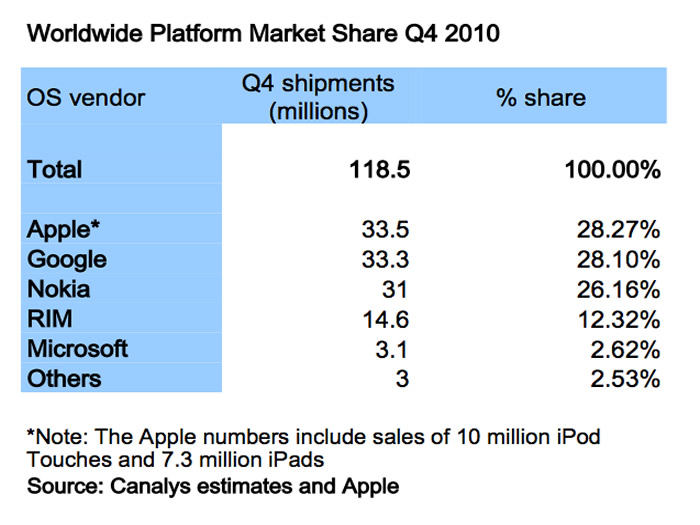 Well, look at that. Apple is back on top. Sorry Canalys, looks like you forgot 17.3 million iOS devices. OK, I know they said 'smart phone', but what we as developers are really interested in is the size of the market for our apps – and the good news is that the market  is growing on all platforms. Looking at the table above there are now 118 million more customers in the market for our apps.
But which platform should be concentrate on? Which platform will generate the most revenue for us. Is it worth converting apps to other platforms, and if so, which ones?
We recently converted our iOS game Crazy Snowboard to a free ad-supported Android version (you can read more about it here: Adventures in Android-Land). I thought it would be interesting to compare revenue of the iOS version to the Android version over the first 45 days of release:
Platform           Release Date  / Report Period            Revenue
iOS                         Oct 30, 2008 – Dec 15, 2008                      $12,000
Android                  Dec 16, 2010  – Feb 1, 2010                          $5,500
A couple things to note for the iOS version are that it was released two years ago and the 45 day reporting period does not include Christmas. So, even when the iPhone App Store was in its infancy (having only opened 3 months before Crazy Snowboard was first released), it still generated twice the revenue that the Android version did.
Android still has a long way to go to catch up to the iPhone App Store in terms of making money for developers.